Hello Everyone!
Pork
We are excited to be able to offer you our trial run of free range pork. It will be available chilled for the next two weeks only as stocks last. Our four Berkshire Piggies have had a good time for the last few months, as piggies like to do, eating grass and then digging it up, foraging for roots, grubs and chestnuts, eating our windfall apples and spare milk and occasionally escaping. Thanks kind neighbours for letting us know!
If we decide to raise more pigs next year we plan to grow as much of their food as we can, and rotate them through the tree strips around many of our lower paddocks to minimise disturbance.
We're not labelling the current batch of pork as spray free because we also fed the pigs wheat – which we fermented to help digestion – and bought pig nuts. We don't know if this feed was spray free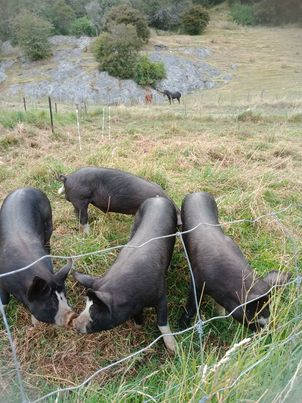 Plenty of Beef Too!
Don't forget to also order from our range of beef cuts.There is plenty available and it is better in your fridge (or your oven!) than in our chiller.
Winter Weather
Heaps more rain coming down this weekend. It's not easy farming animals in these wet winters. We try to get it right but mud does happen. I will be glad when the days start to get longer again.
A good time for roasts in the oven and soups on the wood range. Or at a warming casserole in the wood range.
Other Produce
We still have avocados, and also watercress and persimmons at the Saturday market.
It was great to see a couple of happy customers from over the hill at the market today in the rain, looking for us and our meat. It makes all the hard work worthwhile when we hear your appreciation.
---
Have a Safe week
Rose and Andy and the Ellis Creek Farm Team